Canada needs to build more homes, faster, according to a recent report by the Canada Mortgage and Housing Corporation. The report estimates that British Columbia alone will need 570,000 new homes by 2030 to reach a moderate level of affordability of 44%.
It's no coincidence that housing construction has been gaining momentum among policy makers, including David Eby, British Columbia's housing minister and front-runner candidate to replace John Horgan as NDP leader and premier. of the province.
While it is important to recognize the lack of affordable housing as part of the housing crisis, the problem with our housing system is not as simple as the imbalance between supply and demand. Increasing the supply of housing on the market alone will not end the housing crisis.
Based on a BC-wide survey of 1,004 residents from March to April 2021, our recent study shows that unaffordability is just one type of housing vulnerability that has made havoc on British Columbians during the COVID-19 pandemic.
Market tenants hardest hit
The COVID-19 pandemic has resulted in a second pandemic of social isolation thanks to public health measures put in place to combat the spread of the disease.
While necessary and largely effective, these restrictions have been detrimental to well-being: between 40 and 50% of those surveyed reported a decline in their physical and mental health one year into the pandemic.
However, these negative side effects of the pandemic have not affected everyone equally. Our study found that homeowners fared the best in terms of mental and social well-being, while market renters fared worst.
Even more surprisingly, tenants of community housing (those living in subsidized, nonprofit or cooperative housing) reported the same level of mental well-being as those who had a mortgage.
Community housing tenants also appeared to be less restricted in their social interactions – 43% of this group reported reduced social interactions during the pandemic, compared to more than 60% of market housing tenants and homeowners with mortgages.
The disparity in well-being outcomes demonstrates that policies that only address housing affordability fail to take into account well-being lessons learned from the COVID-19 pandemic.
Housing vulnerability goes beyond "core housing need"
The official indicators of core housing need used to assess housing vulnerability in Canada are unaffordability, overcrowding and poor quality housing. We argue that Canadian housing policy must go beyond them.
We found that renters in market housing were more likely to live in inadequate, overpriced, poor condition or undersized housing. By comparison, only 11% of tenants in community housing were dissatisfied with the quality of housing, giving high ratings to housing affordability in particular.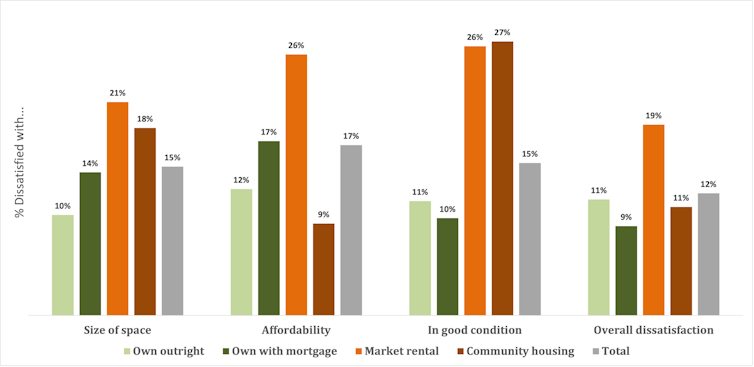 However, our research shows that the pandemic has shed light on forms of housing vulnerability beyond mismatch, such as housing instability, the ability to stay safe and healthy at home, and the reduced access to neighborhood amenities and resources.
Housing instability
A small proportion of survey respondents expressed a sense of residential instability, that is, feeling unable to stay in their accommodation without interruptions or complications. Our study found that 15% of market housing tenants experienced housing instability, compared to 11% of community housing tenants.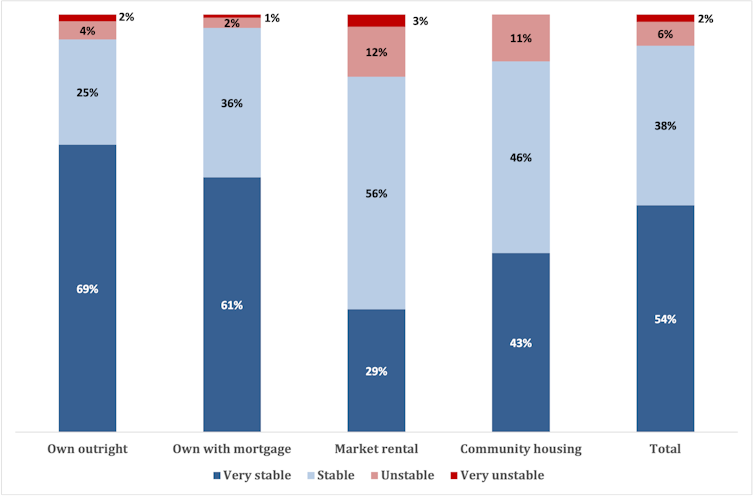 Limited accommodations
Housing facilities are features or functions of housing that enhance people's daily lives. In the context of the pandemic, this meant how living spaces enabled residents to practice physical distancing and cope with the side effects of the pandemic.
Nearly a quarter of respondents have struggled to receive occasional visits from family and friends during the pandemic, while 19% have struggled to work or study from home and 18% have struggled. hard to exercise at home. Some have also reported difficulty maintaining physical distances with non-family members.
Market housing tenants faced above-average challenges in all respects. Community housing tenants fared better, reporting below-average constraints for all activities except visiting family and friends.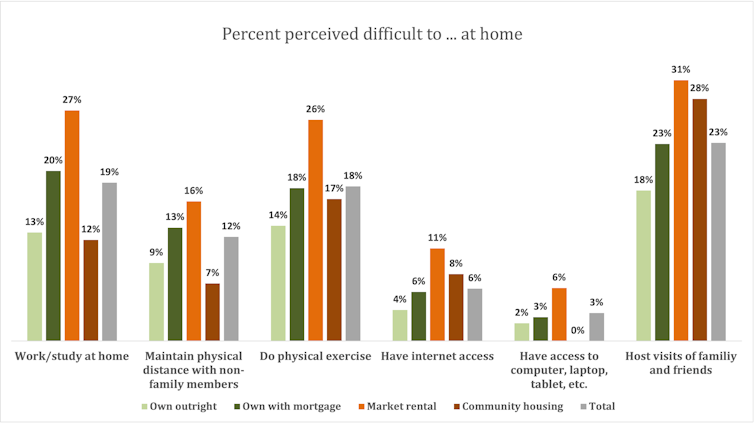 Inaccessibility of the neighborhood
Neighborhood accessibility refers to respondents' satisfaction with access to neighborhood amenities and facilities, such as public transit, stores, private and public open spaces, and community programs.
Most respondents were satisfied with the accessibility of the neighborhood. Homeowners were less satisfied than renters with their access to public transit, likely due to the lack of public transit in some parts of the province.
Both groups of tenants – 25% of market housing and 15% of community housing tenants – were unhappy with access to private outdoor spaces. This could be because access to parks and public spaces has been restricted during the pandemic and more tenants tend to live in apartments without balconies.
A window to better social policy
Housing vulnerability means more than a lack of affordable housing – it also means housing instability, lack of housing, and access to neighborhood amenities. Private market tenants showed unexpected housing vulnerability, faring worse than community tenants in many respects.
It is clear that the market alone does not provide housing as a social good; more comprehensive solutions to the housing crisis will come from understanding the social role of housing in building household and community resilience.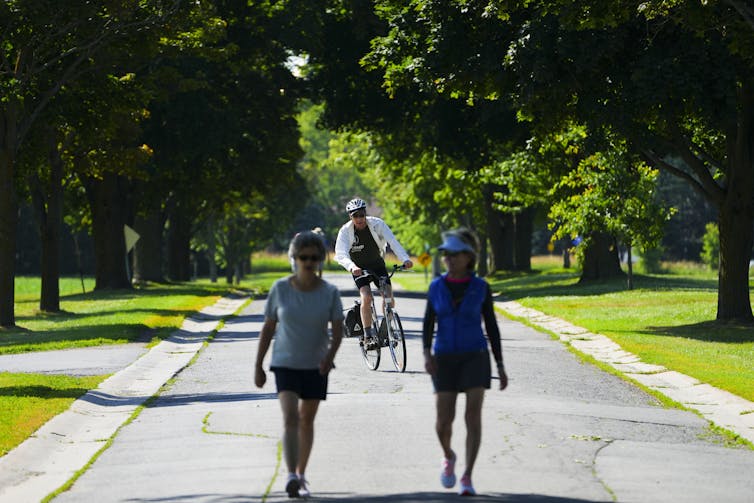 Here, community housing models offer obvious clues, such as how housing is provided and operated and efforts to foster social connections and support in these communities.
While increasing housing supply may alleviate the affordability problem, policymakers should be wary of vulnerabilities introduced by the market system beyond basic housing needs, as our study reveals, particularly for those who do not have the means to become owners.
To build long-term community resilience, public policy must pay attention not only to housing adequacy, but also to the residential stability and quality of life that homes and neighborhoods provide.
Without a holistic understanding of the lived and social realities of what it means to be safe at home, we lose crucial opportunities to achieve important social policy goals through our housing plans and policies.