The Council is organized as an independent 501©3 non-profit organization.
Incorporation by the State of Minnesota: August 10, 1998.
About Us
CCHC
"A free-market resource for designing the future of health care"
Our Mission
To enable individual control in health care decisions by supporting free market principles.
Our Goals
Individual patient and practitioner freedom in health care decision-making
Protection of patient autonomy and dignity through medical record privacy and strong patient consent provisions
Reduced dependency on government health care programs
Free and open health care market, including Medical Savings Accounts, and non-managed care health insurance options.
Market competition at the patient and consumer level.
Equal tax treatment for purchase of health care insurance
Privately-owned insurance independent from employment
Life-long insurance policies.
A charitable safety net strengthened through tax incentives
Elimination of taxes on health care services.
CCHC Officers

Twila Brase, president of CCHC, participates in panel discussion on genetic privacy at a consortium held by the University of Minnesota, Minneapolis, April 2003. From left to right are Professor Timothy Church, PhD, MS, University of Minnesota School of Public Health, Ms. Brase, Professor Steve Jacobsen, MD, PhD, Mayo Medical School, Don Gemberling, Minnesota Department of Administration, and Professor George Annas, JD, MPH, Chair, Health Law, Boston University.
Chairperson
Martin N. Kellogg, President, UFE
President
Twila J. Brase, R.N.
Public Health Nurse
Administrative Secretary
Ellen Loegering
Citizen
Treasurer
Val Baertlein
Master in Public Health
CCHC ACTIVITIES
Public Comments
Patient Privacy
CCHC's public comments on proposed National Health Information Network
CCHC Testimony on MN Plan to Mandate Genetic Testing of Newborns - March 20, 2003
CCHC's Public Comments on Medical Privacy - April 25, 2002
CCHC's Public Comments on Medicare Database - January 15, 2002
Federal Medical Privacy Regulations (Final Rule) - March 28, 2001
Federal Medical Privacy Regulations (proposed) - February 16, 2000
National Provider Indentification Number - July 2, 1998, NPI Summary
OASIS home health data system - privacy requirements - June 23, 1999
OASIS home health data system (final rule) - March 1999
Security and Electronic Signature Standards - October 13, 1998
Standardized Transactions and Code Sets
Unique Employer Identification number for Medical Records - August 14, 1998
Other
CCHC Response to Interim Recommendations of the Citizens' Health Care Working Group - August 29, 2006
Proposed Federal Guidance Threatens Patient Access To Medication - November 26, 2002
CCHC Public Comments On Federal Smallpox Proposal - June 10, 2002
(6/17/02 - REVISED CCHC POSITION: Due to the potential for recently vaccinated individuals to inadvertently spread the vaccinia virus to others, CCHC will reconsider open access to smallpox vaccine. See Vaccinations)
Freedom of Information Act Revisions - Research - September 2, 1999
National ID - August 6, 1998
Research data access - April 2, 1999
Public Forums
2005 - Who Else Has Your Doctors' Ear? Will "EBM" improve or ration health care?"
2003 - Consumer Driven Health Care: Public Sector Opportunities
2004 - Health Savings Accounts - the Ins, the Outs…and the Opportunities
Speeches (Limited List)
Medical Privacy and Privacy Regulation - Washington, D.C.
Testimony (Limited List)
3/20/03: CCHC Testimony on MN Plan to Mandate Genetic Testing of Newborns
1/22/03: CCHC Testimony, Minnesota's Proposed Patient Surveillance System
2/20/01: Hearing to discontinue MN Department of Health access to patient data
3/13/01: Proposed Transfer of Vaccine Mandating Authority to MN Health Dept.
02/20/01: CCHC testifies in support of patient privacy before MN House Committee
03/21/00: Minnesota House Tax Committee - MinnesotaCare provider tax
03/09/99: Patient protection bills in Minnesota
11/06/98: Healthy People 2010 (Chicago, IL)
07/16/98: Immunization Registries (Atlanta, Georgia)
07/21/98: Unique Patient Identifiers (Chicago, IL)
Kudos for CCHC
"CCHC Educates"
After watching groups lobby for more than forty years, I have decided they can be classified into four different teams. Team One panders to their members. They say they fight the good fight every year, and every year they lose. They seldom show up for the game at the Capitol…Their political game plan is to beat on politicians and elected officials. Team Two fields an excellent team at the Capitol. Its lobbyists know the Capitol players. Such teams get some victories, especially if the team members understand the process and the issue as well as having the connections. Team Three goes one step further. It has good lobbyists at the Capitol who work with a field team of grassroots players all across the state. They coordinate the message so that the lobbyists are saying one thing when legislators are at the Capitol. Members from across the state say the same thing when legislators return home each weekend…But the Olympic Award goes to Team Four. In addition to good lobbyists and grassroots organization with political muscle, Team Four knows that in the final analysis legislators will do what constituents want. It takes time, but to survive elected officials need to respond to their constituents. Team Four educates the public. All other things being equal, I will bet on Team Four every time. The best Team Four from the category of smaller associations goes to Twila Brase, President of Citizens' Council on Health Care (CCHC) and its members.They work the press hard and in the process educate the public as to their view. - "CCHC Educates," Winston Borden, Minnesota Government Relations Report, 8/9/04. [emphasis ours]
PRESS RELEASES
2006
08/22/06: President Bush's Executive Order Intrudes on the Patient-Doctor Relationship
08/07/06: Blue Cross Blue Shield Database is "Big Health Surveillance"
07/31/06: CCHC Says: "The Public should protest Govenor Pawlenty's QCare initiative"
06/02/06: CCHC Resolution on Parent Consent for Newborn Genetic Testing Added to 2006 MN Republican Platform
05/17/06: CCHC Hails Defeat of MN Senate's Prescription Electronic Reporting System
05/11/06: Minnesota House Says Yes to Government Medical Decision-Making and Tracking Bureaucracy
05/02/06: More Patients Refuse to Sign Release of Medical Information Forms
04/10/06: CCHC Calls on Governor Romney Not to Sign "HillaryCare" into Massachusetts Law
03/09/06: Minnesota Governor Needs Better Health Care Agenda
02/15/06: MN ADVERSE EVENTS REPORT 2006: Excellence of Care Comes Through
02/09/06: Congress to Gut State Medical Privacy Laws?
01/26/06: Pro-Privacy View Excluded from Today's e-Health Privacy Discussion at MN Health Department
01/17/06: CCHC ASKS: "Where's the Beef in Legislative Hearings on Health Care Solutions?"
2005
12/16/05: Merry Christmas…and Here's Your Lump of Coal! U.S. Agency Sends Dire Warning
07/13/05: MN Legislators Put Bureaucrats at Bedside
07/06/05: United Health Merger: Consolidation Means Control
07/05/05: Young People Face High Health Insurance Rates in Minneapolis
06/09/05: MN Senate Proposal to Governor Needs "Truth in Advertising"
06/03/05: CCHC Releases Statement: Will U.S.Government
Listen to Public's Privacy Concerns about Planned National Health Information Network (NHIN)?
05/24/05: National Physician ID Card Threatens Patient Privacy
05/12/05: CCHC NEWS CONFERENCE: Minnesota Citizens Say "No Bureaucrats at the Bedside"
04/22/05: MN House Dismisses Consideration of Ethics in Genetic Research
04/11/05: House Bill will Eviscerate Medical Privacy of Minnesotans
03/25/05: UnitedHealthCare Cuts Access to 73% of Doctors
02/25/05: "Super Size Me" is a Super-Sized Distortion of Reality, Not a Documentary
02/14/05: Governor and Mayo Clinic Decline Open Discussion of Genetic Research Plan
02/11/05: Citizens' Council on Health Care calls on the Food and Restaurant Industry to have SUBWAY Cease their Attack Ads
02/10/05: Citizens' Council on Health Care Raises Medical and conseils diététiques at Hearings Today and Monday
01/31/05: CCHC forces MN health department to hold hearing
01/27/05: Minnesota Medical Association Report Disappoints
01/19/05: Adverse event report could mislead
01/18/05: Will Patient Consent be Required for Minnesota's Genomic Research Initiative?
2004
12/13/04: WAKE-UP CALL: Technocrats are Taking Over the Practice of Medicine.
11/29/04: Minnesota Governor Announces "Cookie-Cutter Medicine" Plan
10/14/04: CBO: No Cost Savings in Disease Management
10/06/04: HealthPartners No-Pay Policy Bodes Ill for Patients
09/15/04: CCHC President is Named Advisor to LifeSharers LifeSharers is an innovative network of organ donors
07/13/04: MN GOP Party Takes Stand Against Republican- Sponsored Health Care Law
06/23/04: Citizen Demand Forces Truth from Health Commissioner at Public Meeting of the Governor's Health Cabinet
06/02/04: CCHC Photo Gets Quick Response from Governor's Office
05/27/04: Disturbing Discovery in the Governor's Office (petitions not seen?)
05/19/04: CCHC has advice for Governor on how to proceed with "best practices" bill
05/14/04: CCHC Delivers First Set of Citizen Petitions to MN Governor and Legislative Leadership
04/28/04: "Government Should Not Direct the Practice of Medicine," Say Panel of MN Physicians and Business Owners
04/02/04: MN House Refuses to Stop "State Cookbook of Medicine"
04/01/04: CCHC Rebuts Rep. Bradley's Form Letter to Opponents of "Best Practices"
03/30/04: Physicians Oppose "Best Practices" Legislation
03/23/04: CCHC responds publicly to Rep. Bradley's Email to MN House
03/12/04: MN House adds CCHC privacy amendments on genetic research and birth defects registry
03/10/04: Birth Defects Database: CCHC to testify against creating a state database of the disabled
02/24/04: House Bill Pulled, but State Medical Practice Directives Remain
02/05/04: Governor Pawlenty's "Best Practices" Plan Based on Faulty Premise
01/06/04: JANUARY 8: CCHC Joins WCCO Radio for new "Patient's Perspective" Call-In Program
PUBLICATIONS
Articles/Letters Published (Limited List)
"Blame Congress for HMOs" article placed in Congressional Record
"Public Health Rails Against Patient Privacy"
"WHO's Hidden Agenda"
"M.D. Confidential."
Exit Interview
"Health Reform Shouldn't Mean End of Compassionate Care"
CCHC Analyses of Legislation
CCHC Analysis of Massachusetts "Universal Coverage" Bill [PDF]
Plan to Abolish State Medical Privacy Laws - HR 4157 (U.S. House, 2006)
Newsletter
At this time the CCHC newsletter is distributed quarterly only through the U.S. post office. Please contact CCHC with your mailing address if you wish to subscribe.
From the Spring 2006 Newsletter:
National 24/7 Surveillance System Begins
The Centers for Disease Control and Prevention has begun a national data integration system. As a cornerstone of the federal BioSense project to detect public health and biological events across the nation, Informatica PowerCenter is a "key enabler of the nation's ability to integrate data from emergency departments, clinics, pharmacies and other facilities across the nation," says the February 21, 2006 Informatica press release. Barry Rhodes at the CDC said, "[W]e've achieved the ability to capture, move and analyze vast amounts of health event data in real-time in order to effectively manage information." The CDC will collect real-time data from hospitals in 30 cities by the end of 2006.
Reports
Evidence Medicine Challenged: "How Technocrats are Taking Over the Practice of Medicine: A Wake-up Call to the American People
State Collection of Private medical Information: Public Response to Minnesota's Proposed Rule
Distribution, Utilization, and Impact of the MinnesotaCare Provider Tax
Poster / Brochure
Provider Tax Poster/Flyer
Policy Briefs
Policy Brief: "Bureaucrats at Bedside"
Questions to Ask - Mayo/U. of M. Genetic Research Plan
Conformance with the "Federal Medical Privacy Rule" (HIPAA) Will Undo Minnesota's Medical Privacy Laws and Patient Consent Requirements
HIPAA Definitions: Treatment, Payment and Health Care Operations
What Consent? - MN's Medical & Genetic Research Law
HEALTH CARE ISSUES
Consumer-Driven Health Care
MSAs are not FSAs are not HRAs Free the MSA Medical Savings Accounts - summarized Xerox offers $6,000 to employees for individual purchase of health insurance
Emergency Health Powers Act
MN Health Powers Act Passes MN Public Loses Rights in Health Powers Conference Committee Medical Martial Law in Minnesota? CCHC Testifies to Constitutional Concerns In Minnesota Health Powers Act CCHC Closed Meeting Provision Attached to Anti-Terrorism Bill HHS Unveils 24/7 Plan to Track Patients "Freedom's Victory" Not Found in President's Pledge to Public Health CDC's Model State Emergency Health Powers Act Goes Too Far
Evidence-Based Medicine
Bureaucrats at Bedside CCHC REPORT: "How Technocrats are Taking Over the Practice of Medicine: A Wake-up Call to the American People" EBM May Lead to Rationing "The National Quality Forum is setting standards for primary care" (American Medical News, January 12, 2004) - CCHC quoted Practice Guidelines (Directives)
Genetics
England considers DNA profiling at birth Newborn Screening
Government Programs
Medicare MinnesotaCare Government Health Care Diagram
Health Care Workforce
Medical School Applications Falling Want a Nurse, Get in Line!
Health Disparities
Health Savings Accounts
Answering Your Questions About Health Savings Accounts (CAHI) IRS - Fact Sheet on HSAs IRS - Q & A on HSAs
HMOs & Managed Care
HMO Guidelines or New Mandates? Blame Congress for HMOs HMO Rise Driven by Government, Not Market Linda Peeno, MD testifies before Congress on HMO denial of care HMO Diagram
Medical Practice Guidelines
HMO Guidelines or New Mandates? Evidence-Based Medicine
Medical Records
Who Sees Your Medical Record? A Flow Chart of Disclosures Access to Medical Records in Minnesota MN Health Department Interpretation of Federal HIPAA Privacy Rule Maximum Charges to Copy Medical Records in Minnesota
National Health Systems
Kennedy Pushes Universal Health Care for All Physician Groups Declare"Right" to Health Care an Issue for 2000 Government: A Wedge Between Patient and Doctor National systems around the world experience access problems
Newborn Genetic Testing (AKA "Newborn Screening")
CCHC Resolution on Parent Consent for Newborn Genetic Testing Added to 2006 MN Republican Platform Parent's Right to Say No" to Newborn Genetic Testing Press Conference Newborn Genetic Testing & Informed Parent Consent 2006 NO PARENT CONSENT required for sharing private medical record data with government officials - NOTE: Although hospitals and clinics are not required to share private data, federal law permits disclosure without consent Parent Form to Require State of MN to Dispose of Newborn Blood Specimen (DNA) and Genetic Testing Results - USE FOR CHILDREN BORN AFTER JULY 1, 1986 Parent Form to Refuse Newborn Genetic Testing - COMPLETE PRIOR TO TESTING 2003 Minnesota Law allows Parents to refuse Newborn Genetic Testing Minnesota Health Department Human Genetics Home Page Forms for Refusing Newborn Screening (Genetic Testing) in Minnesota - MDH website CCHC Testimony on MN Plan to Mandate Genetic Testing of Newborns FMI, go to the MN Department of Health Newborn Genetic Testing website
Patient Care
HMO Guidelines or New Mandates? Government: A Wedge Between Patient and Doctor Institute of Medicine Recommends Tracking of Medical Errors National systems around the world experience access problems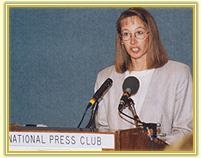 Twila Brase, CCHC president, presenting on medical research and deidentification of data at the National Press Club for the release of the Institute for Health Freedom's Gallup poll results on medical privacy, September 26, 2000.
Patient Privacy
HIPAA - the Federal Medical Privacy Rule
2003 Minnesota Law allows Parents to refuse Newborn Genetic Testing
Medical Confidentiality Strategies
Government Surveillance
Identification Numbersand Data Systems
Children and Schools
Database Integration
Immunization Registries
Government Smart Cards
The Health Passport Program
Reports and Rulings
National Immunization Registry Initiative
Administrative Simplification Act
Federal Privacy Act of 1974
Social Security Numbers
Shalala's Privacy Recommendations
Provider Tax
Health Care Access Fund Balance Statement 2003 - footnote 6 explains plan to transfer money to General Fund
"Increase" In Minnesota's Health Care Tax Set For 2004
Summary of CCHC Report on the MinnesotaCare Provider Tax, 2000
Provider Tax Poster (note: tax rises to 2 percent on 1/1/04)
Rationing
CCHC's Nine Arguments Against Adopting the Oregon Health Plan in MN, 5/18/03
Oregon "Health Care Rationing" Plan - CCHC formatted list of health care services, 4/29/03
Oregon Health Plan Prioritization of Health Services list - actual list (begins at page 399 of state report)
World Health Organization advocates health care rationing
"Evidence-Based Medicine" guidelines may lead to rationing
National health care systems experience health care access problems
Health Care Rationing Series (WSJ) - republished by St. Paul Pioneer Press
Schools & Health Care
Letter to Hillary Clinton includes integration of Health and Schools Coordinated School Health - a project of the Department of Children, Families, and Learning Schools to bill third-parties (HMOs, insurers, and Medicaid) for special education health care services Health Plan enters school in public-private partnership Psychological testing in schools Using the Student Social Security Number to count and track children Speech by Pennsylvania State Representative Sam Rohrer (R) - Medicalization of Schools
Vaccinations
CDC Warns against use of smallpox vaccine, a report from 2002 public hearing in St. Louis, MO. (Disclaimer: CCHC does not take any responsibility for the accuracy of this report). National Vaccine Information Center's 2002 Special Report: Smallpox and Forced Vaccination: What Every American Needs to Know
Resources
National Organizations
American Association of Health Plans
American Hospital Association
American Medical Association
American Nurses Association
Association of American Medical Colleges
Association of American Physicians and Surgeons
Joint Commission on Accreditation of Healthcare Organizations (JCAHO)
National Alliance for Hispanic Health
National Committee for Quality Assurance (NCQA)
National Insurance Association of America
National Medical Association
Rural Policy Research Institute
U.S. Federal Agencies and Offices
Agency for Healthcare Research and Quality (AHRQ)
Assistant Secretary to Planning and Evaluation (principal advisor to DHHS on policy)
Capitol Switchboard: 1-202-224-3121
Centers for Disease Control and Prevention (CDC)
Food and Drug Administration
Department of Health and Human Services
Health Care Financing Administration (Medicare/Medicaid)
Health Resources and Services Administration (HRSA)
Library of Congress
National Institutes of Health (NIH)
National Library of Medicine
National Vaccine Program Office
Office of Civil Rights
Office of Disease Prevention and Health Promotion
Office of Emergency Preparedness
Office for Human Research Protections
Office of Population Affairs
Office of Minority Health
Office of the Secretary of Health and Human Services
Office of Women's Health
Secretary's Advisory Council on Genetic Testing
White House
World Health Organization
Media
Dartmouth Atlas of Health
PRWIRE: Healthcare
Reuters Health Information Services
Minnesota
General Information for Minnesota
Pending Legislation
Current Rules
Laws Passed In Any Given Year
Governor's Office: #651-296-3391
House Information: #651-296-2146
Senate Information: #651-296-0504
Map of the MN State Capitol
Minnesota House: Committees & Schedules
All House Committees
House Meeting Schedule
House Television Schedule
Civil Law (data privacy) Committee
Commerce, Jobs and Economic Development (insurance) Committee
Health and Human Services Committee: Policy
Health & Human Services Committee: Finance Members
Higher Education Finance (medical and health care professional education) Committee
Taxes Committee
Minnesota Senate: Committees & Schedules
All Senate Committees
Senate meeting Schedule
Senate Television Schedule
Commerce Committee (insurance)
Finance Committee
Health & Family Security Committee (policy)
Health, Human Services, and Correction Committee
Higher Education Committee
Judiciary Committee (data privacy/civil rights)
Taxes Committee
Minnesota Government
Minnesota Government Online
Links to Departments, Executive Offices, Task Forces, and State Boards
Department of Health (public health)
Department of Human Services (MNCare/Medicaid/GAMC/Welfare)
Department of Commerce (Insurance/Health plan regulation)
Office of Technology
Department of Revenue (Taxes)
Health Care Lobbying in Minnesota
Campaign Finance and Public Disclosure Board
Minnesota Lobbyists
All Associations Which Have Lobbyists Registered in Minnesota.
Disclaimer: All State Agency staff serving as lobbyists not included.
A
Advocacy Center for Long Term Care
AFLAC
AFSCME #6
Allegiance Healthcare Corporation
Allina Health System
American Academy of Pediatrics - Minnesota Chapter
American Association of Retired Persons (AARP)
American Bankers Insurance Group
American Cancer Society
American Cancer Society Minn Division
American College of Cardiology - MN Chapter
American College of Emergency Physicians Minn Chapter
American Council of Life Insurers
American Diabetes Assn
American Family Insurance Co
American Heart Assn
American Insurance Assn
American Lung Assn of Minn
American Massage Therapy Assn Minn Chapter
American Phys Therapy Assn-Minn Chapter
American Red Cross, St Paul Ch
Apple Tree Dental
Arc of Hennepin County
Assn of Minnesota Counties
AstraZeneca Pharmaceuticals
Aventis Pharmaceutical's Inc
B
Becklund Home Health Care
Benedictine Health System
Blue Cross Blue Shield of Minnesota
Blue Cross Blue Shield of North Dakota
Boston Scientific/SciMed
Brain Injury Association of Minnesota
Bristol Myers Squib
Buyers Health Care Action Group
C
Care Providers of Minnesota
Catholic Eldercare
Catholic Health Association - Minnesota
Children's Defense Fund
Children's Hospital Group
CIGNA Corp
Citizens' Council on Health Care
Coalition for Natural Health
Coalition for Replacing the Provider Tax
Correctional Medical Services
Courage Center
D
Delta Dental of Minnesota
Dental Awareness
Domestic Violence Legislative Alliance
Dupont Merck Pharmaceutical
E
Eli Lilly and Company
Epilepsy Foundation of Minnesota
Extendicare Health Facilities
F
Fairview/Ebenezer
Fairview Health System
Federated Insurance Companies
G
Gillette Children's Hospital
Glaxco Wellcome Inc.
Guidant/Cardiac Pacemakers Inc.
H
Hazelden Foundation
Health Care Consumer Protection Alliance
HealthEast
Health Insurance Association of America
Health Management Systems
Health Partners Lobbyists
HealthSystems Minnesota
Healthy Learners Board
Hennepin County
I
Insurance Federal of Minnesota
K
Knoll Pharmaceuticals
L
Local Public Health Association
M
Mayo Foundation
Mayo Health System
Medical Alley
Medical Evaluations Inc.
Medical Institute of Minnesota
MedPro, Inc.
Medtronic
Mental Health Association of Minnesota
Mental Health Resources
Merck and Co.
Metropolitan Anesthesia Network
Midwifery NOW
MN Academy of Audiology
Minn Academy of Family Physicians
Minn Academy of Ophthalmology
Minn Academy of Physician Assistants
Minnesota AFL-CIO
Minnesota Ambulance Association
Minnesota Association of Health Underwriters
Minnesota Association of Community Mental Health Programs
Minnesota Association of Mental Health Residential Facilities, Inc.
Minn Assn of Nurse Anesthetists
Minn Assn of Optometrists & Opticians
Minnesota Association of Resources for Recovery and Chemical Health
Minnesota Chamber of Commerce
Minnesota Chiropractic Association
Minnesota Comprehensive Health Association
Minnesota Council of Health Plans
Minnesota Dental Association
Minnesota Dental Hygenists Association
Minnesota Emergency Medical Services Association
Minnesota Family Association
Minnesota Health Information Management Association
Minnesota HomeCare Association
Minnesota Hospital and Healthcare Partnership
Minnesota Independent Health Care Providers Coalition
Minnesota Independent Insurance Agents Association
Minnesota Institute of Public Health
Minnesota Licensed Practical Nurses Association
Minnesota Licensed Psychologists
Minnesota Medical Association
Minnesota Medical Group Management Association
Minnesota Natural Health Coalition Action Network
Minnesota Natural Health - Legal Reform Project
Minnesota Nurses Association
Minn Occupational Therapy Assn
Minn Oncology Hematology PA
Minn Optometric Assn
Minn Orthopaedic Society
Minnesota Partnership for Action Against Tobacco
Minn Pharmacists Assn
Minn Podiatry Assn
Minn Primary Care Assn
Minn Psychiatric Society
Minn Psychological Assn
Minnesota School Psychologists' Association
Minnesota Senior Federation
Minnesota Society of Anesthesiologists
Minnesota Trial Lawyers
Minneapolis Radiation Oncology Physicians
Minnesotans for HMO Reform Inc.
N
NAMI-MN
National Federation of Independent Business
National Multiple Sclerosis Society - Minnesota Chapter
Neighborhood Health Care Network
Northern Itasca Health Care Center
Northwestern Health Sciences University
Novartis Pharmaceutical Corporation
Nursing Consultation Inc
O
Oakdale Health Enterprises dba North Medical
Orphan Medical
P
PAB Genetic Transfer, LLC
PACER Center
Parker Hughes Institute
Pfizer, Inc
Pharmaceutical Research & Manufact of America
Pharmacia
Philip Morris Inc
Plasma Protein Therapeutics Assn
PreferredOne
Professional Insurance Agents of Minnesota
Prudential Insurance Co of America
R
Ramsey County
Regions Hospital
RJ Reynolds Tobacco Co.
Roche Diagnostic Corporation
S
Schering-Plough External Affairs
School Nurses of Minnesota
Sioux Valley Hospitals & Healthcare System
SmithKline Beecham
St Cloud Hospital
St Jude Medical, Inc
St Luke's Hospital
St Mary's/ Duluth Clinic Health Systems (SMDC)
Supportive Housing and Managed Care Pilot
SW Minn Emergency Medical Services Corp
T
Third District Nurses
Treatment Advocacy Center
TwinWest Chamber of Commerce
U
UCare Minnesota
United Cerebral Palsy of Minn, Inc
United Health Group
United Way of Mpls Area
University of Minn Physicians
University of Minnesota
Upper Midwest Organ Procurement Organization Inc d/b/a LifeSource
Urban Coalition
W
Wyeth-Ayerst Laboratories 1, 2, 3
CCHC's Fourth Annual Health Care Policy Event
WHO ELSE HAS YOUR DOCTOR'S EAR?
Will 'EBM' improve or ration health care?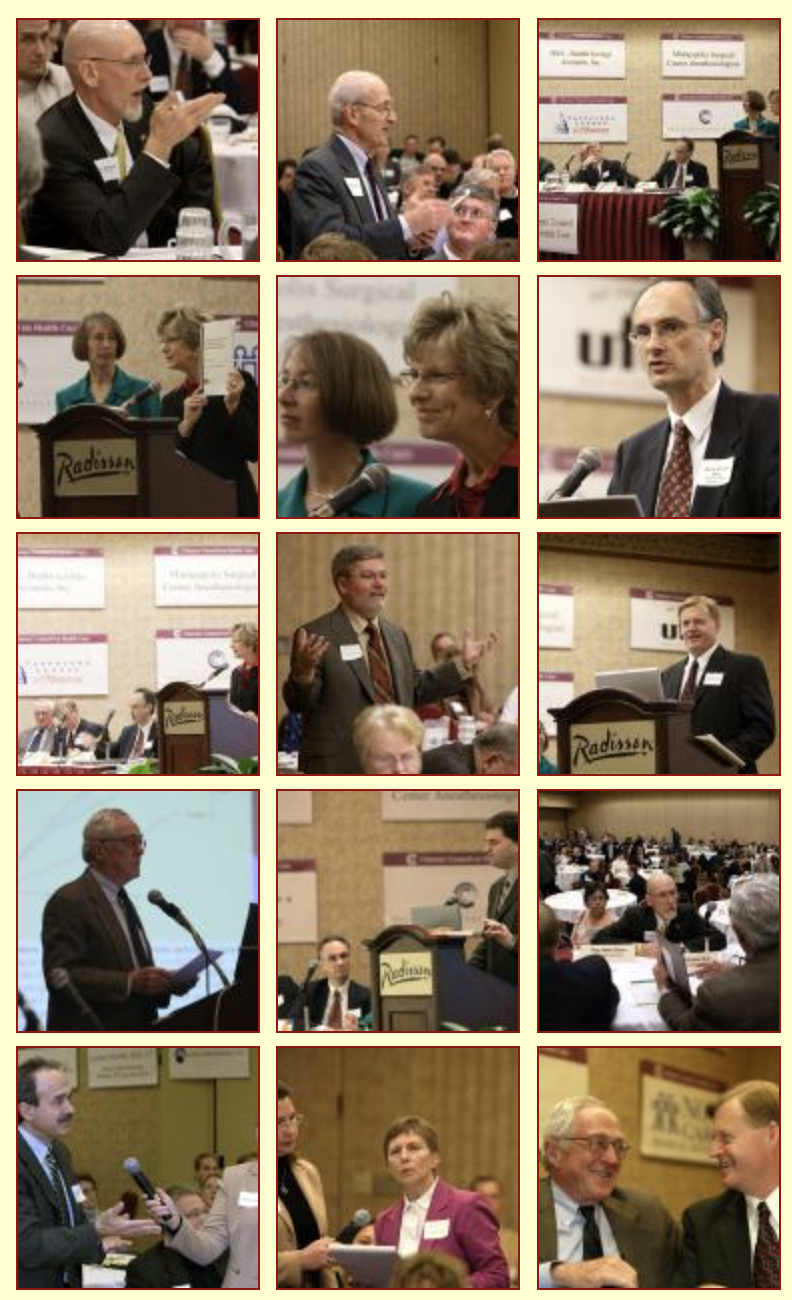 JOIN CCHC
I want to Support CCHC
Contributions can be sent to:
Citizens' Council on Health Care
1954 University Avenue West
Suite 8
St. Paul, MN 55104
Checks can be made out to CCHC.
---
Citizens' Council on Health Care
1954 University Avenue West, Suite 8, St. Paul, MN 55104
Phone: 651.646.8935 / Fax: 651.646.0100
email: info@cchconline.org